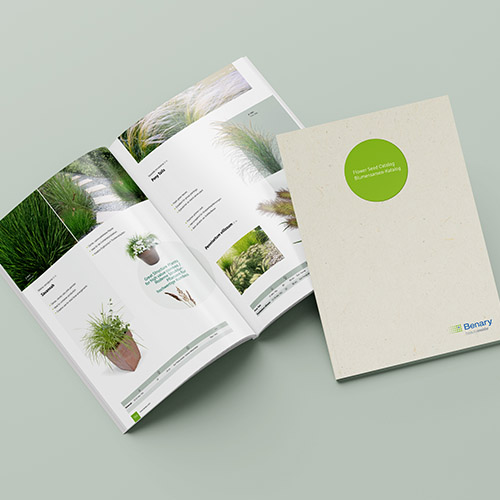 Flower Seed Catalog 2022
Find Annuals, Biennials and Perennials at a glance!
Our professional quality products are offered to Growers through our wide network of Distributors and Brokers around the world.
Follow the link and download the PDF by clicking on the download icon in the upper right corner.
New Varieties & Top Products At A Glance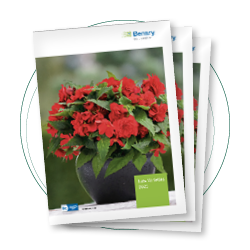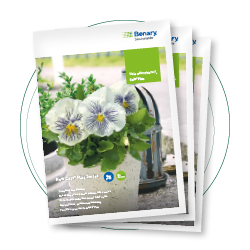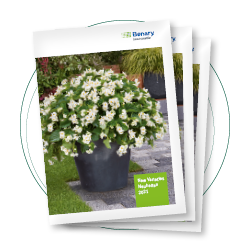 Content
Begonia x benariensis BIG®
Begonia boliviensis Groovy
Begonia tuberhybrida Nonstop®
Begonia tuberhybrida Nonstop® Mocca
Begonia x hybrida Funky®
Begonia semperflorens Super Cool
Celosia cristata Brainiac
Rudbeckia hirta Amarillo Gold
Petunia x hybrida grandiflora SUCCESS!® HD
Lewisia cotyledon Elise
Viola cornuta Admire®
Sempervivum Hippie Chicks
Verbena speciosa Imagination®
Primula elatior Crescendo®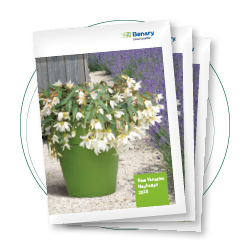 Content
Begonia x hybrida Funky®
Begonia x benariensis BIG®
Begonia x benariensis BIG® DeluXXe / Whopper
Begonia tuberhybrida Nonstop®
Gazania rigens Zany™
Pentas lanceolata Graffiti® 20/20
Viola wittrockiana Inspire® Plus
Viola wittrockiana Inspire® DeluXXe
Viola cornuta Admire®
Eucalyptus pulverulenta Baby Blue
Lewisia cotyledon Special Mix
Technical Guide 2021/2022
Plug Source Guide International
Retail Support
Attractive Sales Support
Benefit from Benary's POP material for an outstanding presentation and sales!
For specific POP for the North American market please contact us here. 
We are happy to help!
Experience stunning Combos and Mixes!
The mixed container program with growers in mind! Just a few short weeks on the bench, then out the door! Plants were selected for growing & seasonal compatability as well as asthetics. The result is easy-to-grow, beautiful containers that you control. Take the guesswork out of mixed containers with one touch!