Back to overview
06/06/2016
5 new begonia varieties from Benary
Begonias continue to trend upward
Renowned worldwide as a leader in begonias, Benary remains its main focus on begonias this year. We are introducing new, novel varieties as well as expanding on current series. Gardeners love begonias for a variety of reasons. Recent introductions present versatility and tolerance to range of environments, and they require little maintenance. Begonias are perfect for the landscape lover's front yard as well as the urban gardener's mixed combo.

2016 – Year of the Begonia
2016 is the year of the begonia announced by the NGB (National Garden Bureau, Chicago, USA). With over 1,700 different species, Begonias (family Begoniaceae) is the fifth most diverse class of plants. Begonias are easy to grow tropical plants, are ideal for garden beds, flower pots and hanging baskets. 
Begonia x hybrida F1 Funky® Pink
Benary is introducing a breakthrough novelty type begonia with a fun name designed to appeal to the younger generation of home gardener (25 - 40 years). Funky® Pink will take some heat and sun. Compact, semi-trailing plant habit with large double pink flowers, easy to ship and lightens up shady areas. Use as a stand alone hanging basket, mixed container or in the landscape.
Begonia boliviensis F1 San Santa Barbara – 3rd bright colour in the "Sun Cities Collection"
Santa Barbara is a great addition to the Sun Cities Collection, which includes Santa Cruz® and San Francisco. Its showy white flowers will compliment any basket or combo. It is easy to grow and has the same heat tolerance and extraordinary garden performance as the other two in the collection.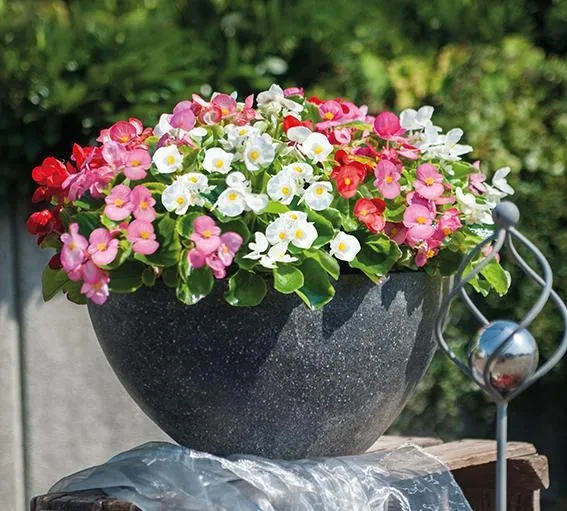 Begonia semperflorens F1 Sprint Plus series – The fastest semperflorens on the market
A classic remade –  Fibrous begonias continue to be the most popular bedding and border plants because they bloom freely all season long. They are much coveted for both open ground plantings and planters. Outside, fibrous begonias flower tirelessly from May until the first frost falls.
This spring Benary is showcasing its new fibrous begonia series Sprint Plus. The new series is to replace the previous Sprint series. Coming with new genetics and in seven colors, Sprint Plus is on average ten days earlier than comparable competitive varieties. In other words, consumers can also plant the begonias earlier. 
Sprint Plus is very uniform with a compact round habit and a gorgeous canopy of flowers. The new Sprint Plus begonias produce large round blooms in rich colors. Excellent germination capacity, uniformity in packs and a compact habit all combine into the "Plus" for outstanding garden performance. Sprint Plus mixes excellently with Nightlife, Benary's bronze leaf fibrous begonia series, to create fascinating plays of color and geometrical patterns.
Begonia x benariensis F1 BIG DeluXXe – Unbeatable garden and landscape performer
Can you imagine bigger begonias than BIG begonia? Make sure you have seen begonia BIG DeluXXe! The "XX" in its name stands for XXL begonia. BIG DeluXXe begonias are 20–25 % larger than BIG. They thrive in full sun to shade. 4 colors make this new begonia series the highlight in the industry! BIG DeluXXe is the perfect season extender in large pots and baskets. They hold up very cool temperatures once they are established. For those who are looking for a premium plant with striking distant effect, BIG DeluXXe surely is the perfect solution. BIG DeluXXe – a truly unique accent plant for any landscape setting and large containers.
Begonia tuberhybrida Nonstop® Mocca White Improved
A great plant just got even better! Improved darker foliage with excellent character and brighter white flowers. Large double flowers with excellent outdoor performance. Full, rounded plant habit. Great branching for more flowers. Fits perfect in timing and habit to the entire Nonstop® series.
In 1972, Nonstop® Begonias became the first F1 hybrid tuberous begonia series from seed that featured a uniform, compact habit, huge double flowers in lots of bright colors. After more than 40 years of improvements, Nonstop® Begonias are still the best selling tuberous begonia on the market!