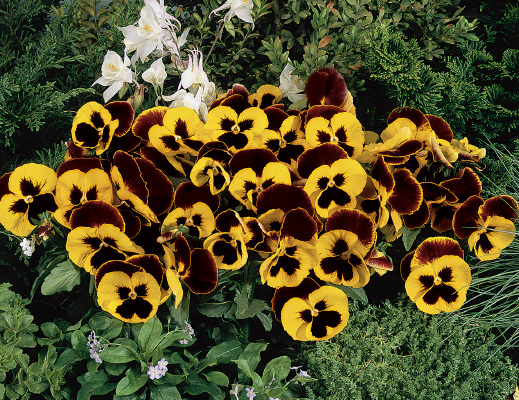 Viola
wittrockiana F₁
Inspire®
Be truly inspired!
Novelty colors with narrow flowering window
Bred for extreme weather conditions
Showy flowers in both clear and blotched faces
Ideal for spring and fall production
Crop Time

Spring: 25 - 26 weeks , Autumn: 10 - 12 weeks

Height ∅

7 ″ / 18 cm

Exposure

Sun

Seed Form

Raw Seed, BeGreen Priming

Best Uses

Bedding, Landscape
Culture guide
Usage
For landscape, bedding, mixed containers in spring and fall
Sow time
According to geographical location and light intensity (north earlier, south later) the sowing time varies around approx. 20 days. Autumn flowering: early-mid July, grow as cool as possible; Spring flowering indoors frostfree: end August-mid September; Spring flowering unheated polytunnel: early August-early September
Sowing method
1 seed per plug
Germination
Stage I+II: 14 -21 days at 59-64 °F (15-18 °C), Stage III+IV: 14-21 days at 54-61 °F (12-16 °C). In media with very low soluble salt levels and pH: 5.2-6.2. Cover seed with vermiculite after sowing. Keep soil slightly moist but not wet. Avoid direct sunlight by shading seed after sowing. Temperatures above 64 °F (18 °C) will inhibit the germination.
Growing on
3-5 weeks after sowing transplant 1 plant into a pot (8-10 cm / 3-4") or packs. The water and nutrition supply can be controlled better in large pots.
Media
Use a well-drained, growing substrate, pH: 5.5-6.2.
Temperature
Grow at 10-15 °C (50-59 °F) or outdoors. Cultivate as cold as possible for a good compact growth. Temperatures above 12 °C (64 °F) are a cause for stretching of shoots. In winter indoors frost free at 2-5 °C (36-41 °F) or outdoors. Outdoors fleece cover needed. In January the plants start to grow at 8-10 °C (46-50 °F).
Fertilization
Low fertilization levels are required. The roots are sensitive to high salt levels in substrates.
---
Stage I Starts with the radicle breaking through the testa. The roots are touching the medium. Ends with fully developed cotyledons.
Stage II Starts from fully developed cotyledons. Ends with the fully developed true leaf or true leaf pair.
Stage III Starts from the fully developed true leaf or true leaf pair and ends with 80% of the young plants being marketable.
Stage IV All young plants are ready for sale and in the process of being hardened off. This stage lasts about 7 days.
The cultural recommendations are based on results from trials conducted under Central European conditions. Different conditions in other parts of the world may lead to deviations in results achieved.